Mandy Flores – White Lingerie
There is nothing more turning on that to watch one hot Mandy Flores in white sexy lingerie having her way with herself, sexually pleasuring herself and cum in screaming pleasure. She took her time making herself all turned on and wet as she started to play with her hot body, feeling her large boobs, toying and pinching her nipples, making them all hard and pointy. She loved to get herself in the mood, and as she got there, she reached for her pussy and started to feel it against the silky fabric, toying with it, massaging her clit and making herself wet and ready for her fingers to get in and really make her good.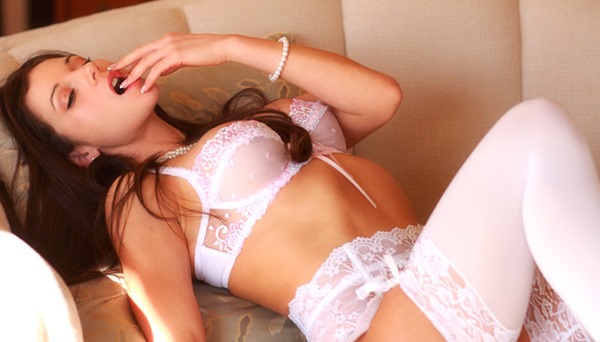 She slid two of her fingers deep inside her pussy and started to really finger fuck herself, going deeper and deeper each time she went in, really feeling them ripping her apart and making her boobs bounce up and down like water balloons. She kept on going like that, fucking herself long and hard, and then when she couldn't hold it in any longer she released a screamed out orgasm, filled with sexual pleasure. Have a look and enjoy this nasty babe going all the way. Wanna see another stunning model playing with herself? If you do, check out the http://sexypattycake.us/ website!
Watch here naughty Mandy showing off her amazing curves!